Theater
Vincent Pastore amd Al Sapienza were part of the New Rat Pack Review at the Gramercy Theater in New York City
October 2007

Al Sapienza performed in Toronto, Canada as part of the cast of the theatrical production of "Dirty Dancing". Al's role was playing the character of Baby's father, Dr. Jake Houseman (originally played by Jerry Orbach in the hit movie). The play officially opens on October 31, 2007. Al is really excited about this play and says it is a fantastic production. He invites everyone to come out and see it. It's playing at The Royal Alexandra Theatre, 260 King St. West, Toronto, For ticket information visit this link .
Dirty Dancing was written by Eleanor Bergstein, a screenwriter, novelist, producer and director. Dirty Dancing, the movie was released in 1987, and was listed in the top 5 highest grossing films for that year. Winner of 8 awards, including an Oscar, a Golden Globe, Grammy and Independent Spirit Award, Dirty Dancing for Best Music, Original Song. It's timeless passionate story of first love, set to vibrant music, and spectacular dance, that has made millions view the movie several times.
The Toronto theatrical production of "Dirty Dancing" is directed by James Powell whose resume include the London , England theater production of "Les Miserables", "Mary Poppins", and "The Witches Of Eastwick".
The play is brilliantly choreographed by Kate Champion, whose International dance credits include but are not limited to; Sydney Theatre Company, The Australian Dance Theatre, and London England's DV8 Physical Theatre, Kate was the recipient of Arts NSW's Robert Helpmann Scholarship for choreographic excellence. In 2002, she won the Helpmann Award for Best Female Dancer for her solo show, "About Face".
Craig Wilson, Ballroom and Latin Choreographer, has taught Latin American and Modern Ballroom dancing for over 15 years. A competitor in the professional ranks of dancing, in 1992 he finished fifth in the "The Professional World 10 Dance Championships" held in The Netherlands. Mr. Wilson has been involved with the stage production of Dirty Dancing, since July 2004, when the show first graced the theatrical stage in Sydney Australia.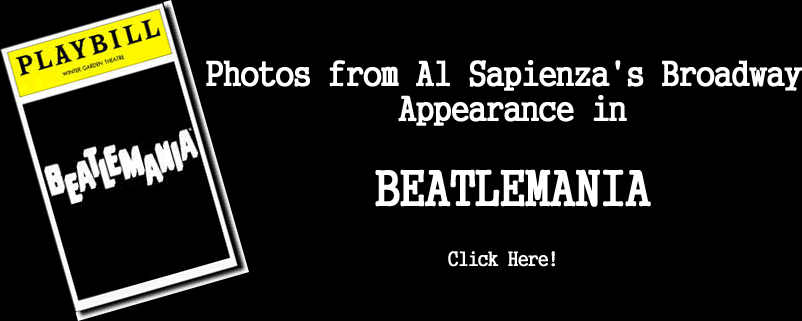 Home | About | Filmography | Theater | Comedy | Gallery | Media | IMDB | Contact
This is the Official web site of Al Sapienza.

Al Sapienza DOES NOT on any social networking site such as MYSPACE, FRIENDSTER, etc. Profiles created on these sites are not created or authorized by Al Sapienza and should be considered fraudulent.
All content (graphic and text) are covered by U.S. Copyright Laws.
No reproduction of any kind, downloading, copy, paste, save, etc. is permitted. The content on this site is assumed to be within the realm of the Public's Right of "Fair Use" and no copyright infringement is intended. If an image is discovered to be in violation of this policy,
please send a e mail and the image will be credited or removed.
Linking of images to My Space or Weblogs is NOT permitted without a written signed permission on file.
This Site is designed and maintained by Wendy