Click here for Al Sapienza's Demo Reel

From an infamous mafia hit man going head to head with Tony Soprano, to a corrupt mayor with a good heart, and a union lobbyist who duels with Kevin Spacey, Al Sapienza has brought to life some of the most memorable characters in film and television today. With a career spanning over thirty years, Sapienza has made a name for himself in the entertainment business for not only his undeniable talent to create unforgettable characters, but also his commitment to hard work and dedication with each project he is working on.
Sapienza was most recently seen with a supporting role in TAKEN 3 for Twentieth Century Fox Films opposite Liam Neeson [released January 9, 2015]. He also co-starred in the SyFy miniseries "Ascension" opposite Tricia Helfer [December 2014].
In 2013, Sapienza can be seen starring as Marty Spinella in the hit Netflix original series "House of Cards." As the head union lobbyist for teachers, Marty challenges U.S. Representative Frank J. Underwood [Kevin Spacey] on numerous occasions, including on live TV, making it difficult for Underwood to accomplish various goals throughout his political scheming. Sapienza can also be seen recurring on CBS' hit series "Person of Interest" as homicide detective Raymond Terney, opposite Jim Caviezel, Taraji P. Henson, and Michael Emerson. On the film front, Sapienza has several high profile projects in the works including supporting roles in Walt Disney Pictures' MILLION DOLLAR ARM opposite Jon Hamm and Alan Arkin [2014] and Warner Bros' GODZILLA [2014]. Independent film projects are also a passion of Sapienza's, currently in production he has OMPHALOS [Intrinsic Value Films], 9 FULL MOONS [directed and written by Tomer Almagor], LUCKY N#MBER [36films], SEPARATION [Birchmount Entertainment and Gravitas Ventures], and he recently starred in A DARK TRUTH for Magnolia Pictures [2012] opposite Forest Whitaker, Eva Longoria, and Kevin Durand.
Born and raised in New York, Sapienza always had a love for entertaining, whether it be playing music, performing in theatre, or acting. At the age of eight he started playing drums, and while attending New York University he made extra money for school drumming behind various cabaret acts in Greenwich Village. While going to college he decided to enroll in a few outside acting classes, which his sister Joanne helped fund. It was through these classes that he met "Murray the K," who helped him land the part of Ringo in the Broadway show Beatlemania. After a solid run with the show, Sapienza made the big move to Los Angeles, to study acting and purse a career in television.
Since then, Sapienza has been seen on some of the biggest shows on television, such as FOX's "24," "Prison Break," and "Fringe," NBC's "Law & Order," Showtime's "Brotherhood," and CBS' "NCIS." He may be best known however, for his recurring role from 1999-2004 as violent and depraved hit man Mikey Palmice on what has been called one of the best television series of all time, "The Sopranos" on HBO. Sapienza has also juggled a film career while also working in TV, appearing in over 80 films since he got his start in the late eighties.

Though happiest when working, Sapienza loves to entertain in any way he can, which includes singing for different charities, including the Wounded Warrior Project a program that provides services to meet the needs of injured service members. When in New York he also participates in weekly football games with a group of friends who have played together every Saturday since 1964. Aside from acting Sapienza is also a political buff, volunteering his time to supporting various issues at the local and state government levels. He currently splits his time between Los Angeles, New York, and Toronto.
" No matter what kind of person I am playing, I always keep in mind that every character is me, and it is my job to live and breathe that part ,"
says Sapienza, whose vast array of films include "Lethal Weapon 4", "Frankie and Johnny", "Free Willy 2" "Phoenix" and the much anticipated "Thick as Thieves" with Alec Baldwin.
"In my opinion the great actors of today...Al Pacino, Robert DeNiro, Jack Nicholson, Dustin Hoffman..all share a common quality, they bring the uniqueness of themselves to every role. To be a success as an actor, you have to bring everything you can of yourself, all the little nuances that make you special, into the life you are portraying. The most important thing an actor must bring to a role is his or her own originality ."
Sapienza's overall philosophy to his chosen art form has not changed much since he graduated from New York University.
"It's all about the love and need of self-expression," he adds. "I looked at my life and thought, what profession would be the most fun? What would challenge me? Law? Politics? Being a prosecutor? I choose acting because...I thought it would be fascinating, you would be able to do just about anything, and wear many peoples shoes on a regular basis. But, you have to be committed, really committed. Unless you give 100% at all times, both while working and doing all you need to get the next role, it's not going to work."
Sapienza's schedule has been in overdrive. Prior to beginning production on "The Sopranos" (starring with James Gandolfini, Lorraine Bracco and Nancy Marchand), he completed work on three upcoming independent features. He has the second lead in "Silicon Towers", a cautionary tale about a Bill Gates-like magnate, opposite Brian Dennehy and Daniel Baldwin. He played Michael Madsen's sidekick in the action thriller "Supreme Sanction" and a crooked cop in the Alec Baldwin film "Thick as Thieves".

On the small screen, he had a recurring role in the ABC-TV daytime soap opera "Port Charles" This role rounded out an impressive list of over 40 TV credits, which included guest starring appearances on hit shows like "NYPD Blue", "Melrose Place", "Diagnosis: Murder", "JAG", "Matlock" and "Married with Children".
"For me, the key to pulling off this mixed bag of roles is in the research," says Sapienza.
"If you play a cop, go out and meet, observe and study cops. Watch them work, read books, watch documentaries, live the life. The technical knowledge aquired through research, along with bringing who you are to every role, makes it feel almost real."
He signed a distribution deal for his first venture as producer, on the low budget art house film "The Gifted", about two musical prodigy brothers torn by the struggle to overcome the temptations of inner city street life. Sapienza portrayed Nick Fontaine, the older brother who squanders his talent before achieving ultimate redemption.

Every actor recalls that key moment in which a certain movie or performance inspires the proverbial pursuit of the dream. For Al Sapienza, it was seeing "Butch Cassidy and the Sundance Kid" for the first time. While attending NYU he took some outside acting classes, which his sister Joanne helped finance, and it was in these classes where he was continually paired with Jackie Zeman, (who went on to star in ABC's "General Hospital"), and whose husband Murray Kaufman aka Murray the K (fame rock DJ and impresario, known as the 5th Beatle) would become fans of Sapienza's talents.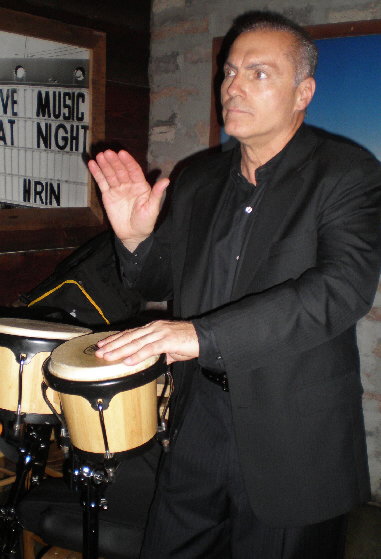 Sapienza had been playing the drums since age eight, and had earned extra money for school by playing behind numerous gay cabaret acts in Greenwich Village for several years. Murray the K was impressed with an original love song Sapienza penned, which Jay Black (of Jay & The Americans fame) was going to record as a comeback single, Murray the K then helped Sapienza land the part in the Broadway show "Beatlemania". Sapienza was flipping pizzas at his brothers restaurant in the village when he got the call which would change his life forever-the role of Ringo was available, could he do the job? The Fab Four changed the young actor's life; "Beatlemania" played on Broadway over a year, and toured the U.S, Europe and Asia almost nonstop for five more years.

With a solid bank account in hand and hoping to get by with a little help from his friends, Al Sapienza went to Los Angeles to study acting and, of course, become a movie star. Though he loved the artistic challenges, his one minor career regret is having concentrated too much on theater (over 30 plays) in the early years of his career, when he should have been pursuing immediate film roles.
"I was so busy trying to prove to myself I could be a great actor, that I overlooked my original goal-to do movies," Don't get me wrong, I love theatre, and I'm sure I'll do it again soon, It's just that I did it for years. I wish I pursued more film right away. Working with the right director, you can learn just as much on a set as you can performing on stage."
As his resume attests, Sapienza-who divides his time between homes in Los Angeles and Greenwich Village, NYC--feels comfortable in almost anyone's skin. Even that of a sociopathic hit man, as he played on "The Sopranos",
"I never play a bad guy as a bad guy, because this kind of character always believed he is doing the right, noble thing. Stanislavsky once said that if you can kill a fly, you can play Othello. As an actor, my job is to understand both the humor in life as well as the pain, and bring those emotions across. A good artist has a strong sense of self, and a voice which he dares to share with his fellow man, hopefully bringing a positive message across."

"I'd like to do more films that not only entertain, but elevate the masses and serve a social purpose similar to the Oliver Stone's films or Roland Jaffe's "The Killing Fields", he adds. "I think about all I've done and hope to do, and reflect sometimes--If I'm able to do something this much fun, yet also help bring enlightening information to people, whether about life, relationships, government...I really consider this a great life."