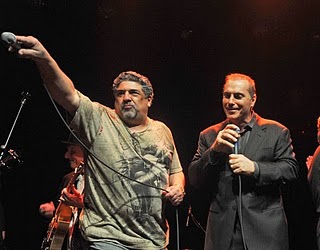 We were lucky enough to check out Big Pussy's New Rat Pack Revue at the Gramercy Theater this past Monday night and while it was reminiscent of the original Rat Pack--with plenty of clowning and friends milling about on bar stools at the edge of the stage--it brought together great music from all periods of the pop music from the '40s to the '10s! Even "Puss" himself (the legendary actor and former New Rochelle nightclub owner Vincent Pastore) got up and sang tunes like The Isley Brother's "Shout" in his adorable, overpowering frog-throated voice!
Pastore's main co-star in this particular edition of BP's New Rat Pack Revue was Vincent Curatola, known as New York crime boss "Johnny Sack" on The Sopranos --and he was often joining in on background vocals during the show. Pastore employed Killer Joe & The Lido Soul Revue, a popular blue-eyed soul band who plays frequently in the tristate area, to be his backing group for the evening, and they were more than prodificiaent whether they were playing Beatles tunes or Sinatra "croons"! Singing some of the best songs of the evening (including a unique version of Neil Diamond's "Sweet Caroline") was Al Sapienza, who played Mikey Palmice on T he Sopranos and might be most well-known for throwing drug dealer Rusty Irish into the Paterson Falls! (If you are craving a little bit of pop culture trivia right about now, Al actually played Ringo in "Beatlemania" back when it was on Broadway even though he doesn't have a big snozz!)
The Big Pussy New Rat Pack Revue is a revolving group of "players" and in the past (specifically at Harrah's in Las Vegas), talented Sopranos actor (and guitarist/songwriter) Michael Imperioli who played Tony Soprano's bad ass "nephew" Chrisopher Moltisanti has joined the crew. (We mean musical crew, not mafia crew!). Pastore always invites some new talent along to be showcased, and this time around, songbird Phyllis Martin of Staten Siland stole the show! (She has a strong Liza Minnelli vibe but knows how to rock out!)
We were lucky enough to chat with Vincent Curatola and Vinnie Pastore backstage after the show and both agree with us that Big Pussy's New Rat Pack Revue would make an excellent HBO Pay Per View event, so if any HBO execs are out there, definitely consider this! (By the way, I asked Curatola if he had any films in the works--hinting that the rumored Sopranos feature film might be in production--but he said a firm "no"! We Sopranos maniacs know that the dry-witted Johnny Sack died of lung cancer in a Springfield, Missouri, prison hospital in the show's final season but there would undoubtedly be flashbacks of his character in a Sopranos feature film.)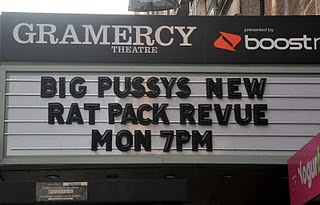 We think that this could be annual or bi-annual HBO rollickign affair with a lot of different popular artists thrown into the mix, from Green Day to Springsteen (there is even an Asbury Park rock tribute portion of the Revue). And maybe someone like Tracy Morgan can show up to throw in some wisecracks--although Pastore and his Sopranos pals are full of 'em. There are comedians in the revue as well. Radio DJ Goumba Johnny did Italian-American comedy schtick that had us falling on the floor of the Gramercy Theater (pardon the crudity here, but we agree with him that broccoli rabe is indeed the ultimate laxative)!
We know that if Dino, Frank or Sammy were still alive, they would undoubtely want to appear alongside Big Pussy and his crooning crew of "paisans"--and even perform some of the classic rock material included in the show (as weird as that might sound)! Check out Big Pussy's New Rat Pack Revue if it comes your way--it is a bonafide "hit"! (By the way, Pastore says he will be appearing at the Wonder Bar in Asbury Park, NJ, on June 7th!)