Al Sapienza chats about SyFy's Ascension
An Interview with Eclipse Magazine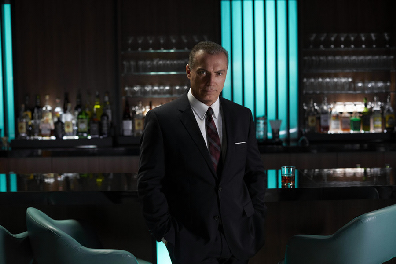 In 1963, the U.S. government launched a covert space mission sending hundreds of men, women and children on a century-long voyage aboard the starship Ascension to populate a new world. Nearly 50 years into this journey, a young woman is murdered. As unrest starts to develop, it causes the ship's population to question the true nature of their mission. This mystery drama comprised of 6 one hour long episodes. The show is created by showrunner/executive producer Philip Levens and Adrian A. Cruz. Al Sapienza plays Councilman Rose, one of the leaders on the ship. I had the chance to chat with him about Ascension which premieres on Syfy on Monday, Dec. 15 at 9/8c.
AL SAPIENZA is a talented actor, producer, and musician known for bringing to life a multitude of memorable characters on film and television. This New York native first started out as a drummer at the age of eight. After taking outside acting classes while at NYU, he made his way onto Broadway's Beatlemania. Not long after, he relocated to Los Angeles to pursue his dreams of acting.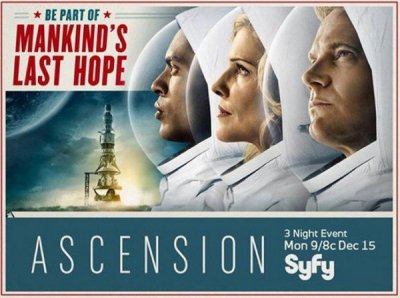 Since then, his career has flourished. Best known for his role as hitman Michael Palmice on HBO's "The Sopranos", his other tv credits include Netflix's "House Of Cards", FOX's "Gotham", "24," "Prison Break," and "Fringe," NBC's "Law & Order," Showtime's "Brotherhood," and CBS' "NCIS" and "Persons Of Interest". He has over 80 films to his credit, including Walt Disney Pictures' MILLION DOLLAR ARM and Warner Bros' GODZILLA. Independent film projects are also a passion of Sapienza's, including A DARK TRUTH, OMPHALOS, 9 FULL MOONS, LUCKY N#MBER, and SEPARATION.
This versatile actor can play anything from a politician to a hitman to a police officer. On top of his on-camera career, he also does theatre and standup comedy. This talented actor has made a name for himself in Hollywood. What's next for Al? The possibilities are endless.
I see your name everywhere! I've heard there are zero degrees of separation in Hollywood!
Al: There totally is.
I'm excited to talk to you about SyFy's "Ascension". When is the release going to be?
Al: In the US, it is December 15 and in Canada it is January 2015.
This show is amazing. It is actually based on the Orion project by JFK.
Al: The Orion project was scratched. He had this concept of putting a city out in space.
How did you get involved in this project?
Al: It was evening and I get a call from my agent saying, "Do you want to read the script? They are casting this really fast." I read the script that night.

There's a shocking twist at the end of the first two hours. It takes a lot to shock me. I've seen a lot of movies and tv shows. They didn't put the twist in the script when they sent it out to agents and actors because they didn't want anybody to know. I didn't know about the twist. I loved it without the twist. I thought it was brilliant– the whole concept of society continuing for 51 years on its own without any influence from science, pop culture, law, medicine. It was its own society.

I get a call, I read the script, I'm cast the next day at noon, I'm on a plane at 5 pm, and I'm shooting the next day in Montreal.
That's one of the fastest turnarounds!
Al: They watched the "House Of Cards" tape. So I shot the day and did several scenes. Then I was shooting a second day with Tricia Helfer and she said, "You don't know the ending?" She tells me the twist and I almost died. I love the show to begin with and once you get this twist, it opens it up to this whole new realm of story lines. It is beyond belief. I love this show. I love the writing. I'm really hoping the audience sees it and likes it.
It is so original.
Al: It is fabulous. It is going to surprise you at the end.
Tell us about your role of Councilman Rose.
Al: The ship is its own society and it evolved over fifty-one years by itself. It is ruled by its council. The captain has ultimate powers on a short term basis. The council can remove and replace a captain. Ultimately, the power is with the council in the long term and the captain in the short term in the chain of command.

Politicians are different in 2014 on earth compared to 1963. They were more polite. Their presentation was for public service and honor and ethics. They at least played the game well. They were a little more ethical than they are today. For today's politicians, it's not about the greater good or service or honor. It's about self ego and money. I'm not too thrilled with the politicians today.

Councilman Rose is like the politicians on earth. He's a pretty self serving guy. He wants to take over the ship. He wants to be captain. He's having an affair with the captain's wife. He uses her for information and she uses him for information to bring back to the captain. I play him where he is truly in love with the captain's wife. He really believes he will be a better captain than what Brian Holt plays.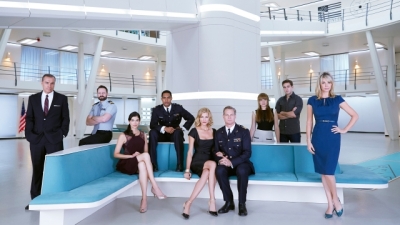 Would you say "Ascension" is a political statement of how politics is today?
Al: Absolutely. "Ascension" has an incredible opportunity to talk about our culture, ethics, our morals, and our state of being as a nation today and back in 1963. It has that opportunity in every script and every episode. That is what I love about it. It is more than just petty human conflicts.
Is Councilman Rose influenced by real politicians in real life?
Al: He's a fictional character, but writers are always influenced by people in real life. Great writers are aware of everything that is going on and who's doing what –world politics and economics. They are the great ones. Phil Levins and Adrian are incredibly intelligent guys. These are intelligent scripts.
Were there any particular aspects you enjoyed about playing Councilman Rose?
Al: The love scenes with Tricia Helfer (laughing). I love playing men with power. I love playing politicians, generals, presidents. Men who have to make decisions that affect a lot of people and whether or not that man makes decisions with greater good of most of those people in mind or has their own self serving reasons for making those decisions. Either way, characters that are interesting to play. There's just a lot more to think about.
What specifically drew you to acting and made you realize this is what you wanted to do with your life?
Al: When I was a young kid in the mall cinema, at twelve years old, I saw "Butch Cassidy and the Sundance Kid". It's a perfect film in every way. Combination of action, history, love story. Robert Redford, Paul Neumann, Katharine Ross. . . I didn't know what a director did or what a set looked like but when I saw that movie, I said, "I have to do this. This is what I want to do for a living. Those people look like they are having so much fun." If work sucks, I'd rather do something that sucks the least. That was my attitude.

I went to NYU for four years, then I studied with Milton Katselas at Beverly Hills Playhouse. That's where Brian Van Holt and I became friends. I studied there for fourteen years. I was working while I was studying of course, as most of that class was.

I just fell in love with it. It's the ability to play cops and robbers and cowboys and Indians and get paid for it. To say it in a more creative way, you're able to put your soul into someone else's life. You're a pilot in the air force. You're a murderer. You're a hitman. You're a politician. You're a professional football player. You get to play all these different people. Even though you're not really them, you're experiencing a little bit of what it's like to be that. Unfortunately In life you can only be one or two things. Life is too short. But as an actor, you can be fifty. I feel like I'm the luckiest man on earth.

It's the best job in the world.

It is! It's not a job. It's fun! When I go to work, it is like I am on vacation.
You were on several soap operas also. Port Charles, Days Of Our Lives . . .
Al: Yes. Except that thing "General Hospital 1963". I don't know what that is. You can't control imdb. I was not in General Hospital in 1963.
I will make note of that to our readers. Do you have a daily mantra you live by?
My mantra would be don't waste one second on anything. You're going to be dead before you know it. Live your life to the fullest. Don't cry over spilled milk. Don't cry over anyone or anything. Do your best. Be fair. Be honest. Live your life to the fullest. That's what we're here for. Enjoy yourself.
You also support a charity–the Wounded Warrior Project, right?
Al: It's good to do something. Those guys are losing legs. I'm not being cynical. I'm being sarcastic. They are dying for our freedom. There's not a lot of freedom for a lot of places in this earth. There are other Islamic countries where women are not free. And little girls. The whole population. I'm saying sardonically for a reason. We have it so good here we don't realize it. There's a price for a gay guy to get married and be loved in New York City and no one gives a s***. There's a price for that freedom and people are paying for it. And people have paid for it in the past. Everyone takes it for granted and it's really stupid to do that. If we do, it will go away. That's why I picked that charity out of all the charities to work with.
At least we are honoring the people that protect our country.
Al: Exactly. And their lives are often ruined . They are paying a price so we can do what we do.
Can you tell us about your upcoming projects?
Al: Sure! "Gotham" where I played Dick Lovecraft. Ed Burn's new show "Public Morals" coming up. I have a mini-series coming up called "No Easy Days". That will be out in February. I want to work every day. I just want to be creative.
We'll stay tuned for more! Thank you so much Al!
Al: Thank you very much. It was very nice talking with you.
Being a fan of science fiction, I also share the enthusiasm for Syfy's upcoming show as much as Al did. The story is unique, there are fantastic actors, and the writing is great. What more can you ask for? Make sure to catch the US premiere of this show on Syfy on Monday, December 15 at 9/8c!