James Gandolfini: The Beautiful Man Who Arranged My Execution Uncle Junior's enforcer reflects on Tony Soprano
By Al Sapienza 6/25 7:00pm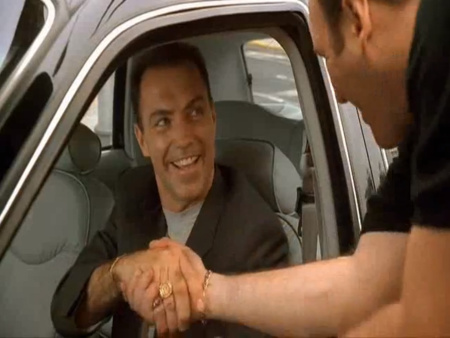 Tony Soprano [staple-gunning Mikey Palmice's chest]: "What are you screaming about? Free alterations!"
Jim was a truly special man. So kind, so intelligent, so humble. Never nasty, never short. Jim never looked down on anyone in the cast or crew, even after his immediate rocket to stardom. He never took his talent—or his position—for granted. Jim was a true actor in the "old" sense. Always probing for more answers for his characters. Never satisfied with good enough. Always looking for added dimensions to the characters he played.
All of Jim's characters, no matter how tough or violent they were, they were also … like him. They had this vulnerable, gentle empathetic side. During the first season of The Sopranos —before he was a star, when he was just "our leader," before the show was even on the air—on very long days, Jim would treat the whole cast and crew to giant platters of sushi on his own dime. And at that time, he was not making that much money—the show hadn't even aired yet. He was just a regular guy with this added element of great talent, kindness and intelligence.
When the show started, there were no expectations. The closest we had to a star was Lorraine Bracco, who had been brilliant in Goodfellas and The Basketball Diaries . We were all equal. Our work was always straightforward and professional on the set. Even when we were punching each other or he was staple-gunning a parking ticket to my chest. We still had fun. We were working and acting.
Later, when he started earning a million an episode, Jim gave a substantial cash gift to every cast member! Who does that?
As an actor, Jim's humility has been a model for me. In fact, his humility should be an example for all of us. His humility and his humanity! That's what I'll remember the most about him. He was a wonderful man. He will be so missed. Much love to Marcy and Deborah and his children. The lesson here is we must all take care of ourselves! We also must, like Jim did, live our lives to the absolute fullest. Don't put anything off.
I read Steve Schirripa's article in The New York Post about working with Jim. He had a couple nice anecdotes, but at the end of the day, just like me, Steve didn't really get into details or telling stories. I have nothing like that. We were both pros. My stories with Jim are all personal. Late night New York, things I wouldn't want to say to the public, not because they were bad but because they were private. Things that would betray the trust of my deceased friend.
I love you, Jim. Thank you for being my friend. I will miss our late-night New York City conversations. You were an inspiration to me and an example of the actor I have always tried to be. Xoxoxo.
Al Sapienza portrayed Uncle Junior's enforcer, Mikey Palmice, in The Sopranos .