Our exclusive interview w/Ascension star Al Sapienza
The FoF had the pleasure of chatting with Al Sapienza recently regarding the upcoming Syfy 3-night event Ascension.
from http://www.fellowshipoffools.com/j2/television/609-our-exclusive-interview-w-ascension-star-al-sapienza?fb_action_ids=10152903873989637&fb_action_types=og.likes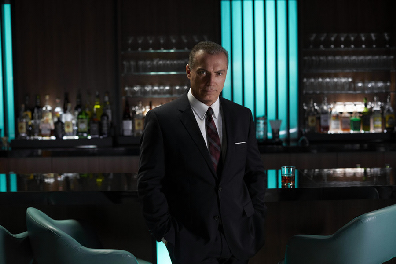 Be sure to checkout our coverage from the Ascension panel from this years Syfy Press Tour. This interview is being broken up into two parts. The reason is to avoid major spoilers prior to the airing of Ascension. Be sure to tune in on Monday, December 15th for night one of Ascension on Syfy.
FoF- Thank you for your time today as well as your time in Orlando on the Syfy Press Tour.
Al- You're welcome and I had a great time in Orlando. That was really fun.
FoF- You may be one of the busiest actors working today, what was it about Ascension that made you want to be a part of it?
Al- The concept, the concept is plausible. Taking people from earth out to space in a way to preserve mankind. Those people having no contact with earth. With only the science available at that time, they have to evolve very quickly. The possibilities for storylines and script lines and social commentary is terrific. That's what attracted me to it.
FoF- Tell us about your character, Councilman Rose?
Al- It's interesting; I'm having an affair with the captain's wife, Tricia Helfer. You are not 100% quiet sure of her intentions, because she is reporting back to her husband. My character is in love with her. I want her and I also want to run Ascension.

Councilman Rose has the same qualities of a modern politician. I am self-serving, self-centered, I'm ruthless and it's all about me. I try to play every character with as much compassion and as much love as possible. Everything he is doing, he believes is 100% correct. He thinks he can run that ship better than anyone else.
FoF- We discussed this in Florida and viewers see your characters affair with Tricia Helfer's character, Viondra Denniger. Is it safe to say that we will see this come to a head with her husband William played by Brian Van Holt?
Al- Absolutely, (laughs) Brian and I went to acting school together. Brian is a great actor and hopefully I have that in common with him. Brian is as confident as a surfer as he is as a captain. We actually come to blows (laughs) it was a lot of fun.
FoF- We had the chance to get to know Brian at the bowling night on the press tour and are looking forward to seeing this play out with both of your characters.
Al- I have watched the scene where it comes to a head and it is really a good scene. We just go at it. (laughs).
FoF- It doesn't hurt that you have such a great cast of actors on this show either.
Al- You have Tricia Helfer, Brian Van Holt, Andrea Roth and all these great people. We were shooting in Montreal this past summer and it was such a delight. Everything is good. The cast is good, the combination is good, the producers are good, and it was just really cool. This was one of my best experiences all the way around.
FoF- One of the things we learned early on is that aside from a few drunken bar fights, there aren't many problems on Ascension. Is it that there really aren't many problems or that Councilman Rose has a firm control on what really happens on Ascension without drawing attention?
Al- There is a lot of problems and they will start to reveal themselves. This in spite of how I try to take care of it. There are problems all over.
FoF- This looks like a series that will leave viewers questioning a lot after night one. During the three night event starting December 15 th , how will you celebrate the premiere?
Al- I am having dinner with Danny Cannon and his family. Danny who is the Executive Producer for Gotham. The final night I am heading to a party at Tricia Helfer's house.

FoF- Since Ascension could go to series, has there been any indication after the 3 night premiere of when that decision could happen?

Al- You know what, I won't know for sure. It all depends on the numbers. It will depend on how many people watch it. We should know soon after it airs.

We want to thank Al Sapienza for taking time out of his busy schedule to chat with us. We will post the remainder of the interview after the premiere. Be sure to follow Al on his Twitter account- @ alsapienza
After our interview, Al and I chatted for a few moments and we learned that Al is a supporter of The Wounded Warrior Project. Below is a link where you can learn more about The Wounded Warrior Project and how to donate. Be sure to tune in on Monday, December 15th on Syfy for the premiere of Ascension.